Partners Fund
Institutional Class
The investment objective of the Clifford Capital Partners Fund (the "Partners Fund") is long-term capital appreciation.
We Believe that the blend of Core and Deep Value companies provides alpha potential with a less volatile return stream compared to Deep Value only investors.
Core Value: high returns on capital, sustainable competitive advantages, and strong management teams
Deep Value: negative market sentiment, defensible franchise value, and high expected return potential
We use a bottom-up approach that seeks to identify businesses where expectations are irrationally low, leading to significant undervaluation, based on our independent research. Both Core and Deep Value companies exhibit:
Strong balance sheets
Market overreaction short-term events
Key Thesis Points™ (long-term catalysts) that will improve fundamentals


Primarily invests in US Large, Mid, and Small Cap companies at the time of purchase
Concentrated portfolio of 25-35 positions
Total Assets
(all share classes)
Minimum Initial Investment
*Clifford Capital Partners, LLC (the Adviser) has contractually agreed to reduce fees and/or reimburse certain fund expenses until January 31, 2024.
Overall (Out of 379 funds)
Morningstar Category
Mid-Cap Value
The Overall Morningstar Rating, a weighted average of the three five and ten year (if applicable) ratings, is out of 380 funds in the Mid Cap Value category, based on risk adjusted return as of June 30, 2023
1 The Morningstar RatingTM For each fund with at least a 3-year history, Morningstar calculates a Morningstar Rating based on a Morningstar Risk-Adjusted Return measure that accounts for variation in a fund's monthly performance (including the effects of sales charges, loads, and redemption fees), placing more emphasis on downward variations and rewarding consistent performance. Exchange-traded funds and open-ended mutual funds are considered a single population for comparative purposes. The top 10% of funds in each category receive 5 stars, the next 22.5% receive 4 stars, the next 35% receive 3 stars, the next 22.5% receive 2 stars and the bottom 10% receive 1 star. (Each share class is counted as a fraction of one fund within this scale and is rated separately, which may cause slight variations in the distribution percentages.) The Overall Morningstar Rating for a fund is derived from a weighted average of the performance figures associated with its 3-, 5- and 10-year (if applicable) Morningstar Rating metrics. The Morningstar Rating is for the Institutional share class only; other classes may have different performance characteristics. Across U.S.-domiciled Mid-Cap Value funds, the Partners Fund received 2 stars among 380 funds and 3 stars among 361 funds for the 3- and 5-year periods, respectively. Past performance is no guarantee of future results.

Average Annual Total Returns
*The performance data quoted represents past performance and is no guarantee of future results.
*Returns for periods of less than one year are not annualized.
Current performance may be lower or higher than the data quoted. Investment returns and principal value will fluctuate and shares, when redeemed, may be worth more or less than their original cost. To obtain the Fund's performance current to the most recent month-end, please call 800.673.0550. A Fund's performance, especially for short time periods, should not be the sole factor in making an investment decision.
Growth of Hypothetical Investment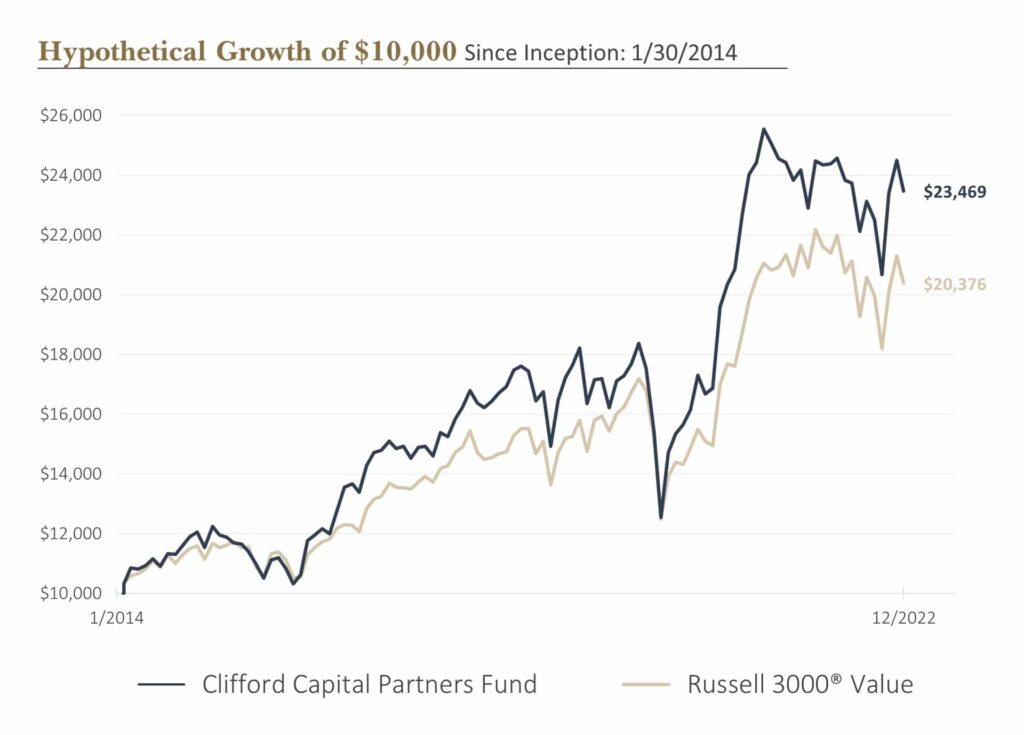 The hypothetical chart does not reflect the deduction of fees, sales charges, or taxes that you would pay on fund distributions or the redemption of fund shares.
 Statistics definitions found in "Important Disclosures" below
Average Market Cap ($ Weighted)
Price / Earnings (trailing)
Portfolio holdings exclude cash and short-term investments. Cash represented 3.5% of the total portfolio. Current and future holdings are subject to change and risk. For a complete list of the Fund's portfolio securities, call 800.673.0550.
Weights are calculated as a percentage of net assets including cash & cash equivalents. Sector information is based on a representative account as of the date shown and subject to change.
Partners Fund Distributions – Institutional Class
For more complete information, please download the fund's prospectus or call 800.673.0550 for copies. You should consider the fund's investment objectives, risks, charges, and expenses carefully before you invest. Information about these and other important subjects is in the fund's prospectus which you should read carefully before investing.
Investing in small or mid- cap funds can be more volatile and loss of principal could be greater than investing in large cap or more diversified funds.
Russell 3000® Value. The Russell 3000 Value Index measures the performance of those Russell 3000 Index companies with lower price-to-book ratios and lower forecasted growth characteristics. Russell Mid-Cap Value. The Russell Midcap® Value Index measures the performance of the midcap value segment of the US equity universe. It includes those Russell Midcap® Index companies with lower price-to-book ratios and lower forecasted growth values. Index Source: Bloomberg® and Russell® You cannot invest directly in any index.
Information about Risk
Risks of Investing in Equity Securities. Overall stock market risks may affect the value of the Fund. Factors such as domestic economic growth and market conditions, interest rate levels, and political events affect the securities markets. When the value of the Fund's investments goes down, your investment in the Fund decreases in value and you could lose money.
Risks of Small-Cap and Mid-Cap Securities. Investing in the securities of small-cap and mid-cap companies generally involves substantially greater risk than investing in larger, more established companies.
Focused Investment Risk. The Fund is a focused fund and generally holds stocks of between only 25 and 35 companies. Focused funds may invest a larger portion of their assets in the securities of a single issuer compared to a more diversified fund. Focusing investments in a small number of companies may subject the Fund to greater share price volatility and therefore a greater risk of loss because a single security's increase or decrease in value may have a greater impact on the Fund's value and total return.
Sector Risk. The Fund may emphasize investment in one or more particular business sectors at times, which may cause the value of its share price to be more susceptible to the financial, market, or economic events affecting issuers and industries within those sectors than a fund that does not emphasize investment in particular sectors.
Management Style Risk. Because the Fund invests primarily in value stocks (stocks that the Adviser believes are undervalued), the Fund's performance may at times be better or worse than the performance of stock funds that focus on other types of stock strategies (e.g., growth stocks), or that have a broader investment style.
Data shown, such as portfolio holdings, percentages, and sector weightings, generally applied on the date shown, and may have changed substantially since then. References to specific securities and sectors are not recommendations to buy or sell such securities or related investments.
Sector and Industry classifications as determined by the Fund may reference data from sources such as Bloomberg or the Global Industry Classification Codes (GICS) developed by Standard & Poor's and Morgan Stanley Capital International. Sector weights are a percent of equity investment and subject to change.
Fund Characteristics
P/E Ratio (trailing): Sum of stock prices of the fund's holdings divided by the aggregate earnings per share of those holdings for the past 12 months, calculated as a weighted harmonic average. Price/Book Ratio: weighted average of the stocks' price divided by book value per share. Book value per share is defined as common equity, including intangibles, divided by shares outstanding times the adjustment factor. Price/Cash Flow Ratio: a ratio used to compare a company's market value to its cash flow. It is calculated by dividing the company's market cap by the company' operating cash flow in the most recent fiscal year (or the most recent four fiscal quarters); or, equivalently, divide the per-share stock price by the per-share operating cash flow. Weighted Average Market Cap: Average market capitalization of companies held by the fund, weighted by their percentage of fund net assets. Portfolio Turnover: A measure of trading activity in a fund's portfolio over the past 12 months expressed as a percentage of the fund's average total assets. Market Cap is the aggregate value of all of a company's outstanding equity securities.  Dividend Yield: a financial ratio (dividend/price) that shows how much a company pays out in dividends each year relative to its stock price. Active Share is a measure of the percentage of stock holdings in a manager's portfolio that differs from the benchmark index.
Performance Statistics
Alpha measures a fund's risk/reward potential. A positive alpha means the fund outperformed the index. A negative alpha means the fund underperformed the index. Beta measures a fund's risk in relation to the market. A beta of 0.8 means the fund's total return is likely to move up or down 80% of the market change; 1.25 means total return is likely to move up or down 25% more than the market. R-Squared measures (from 0 to 1.0) how closely a fund's movements are correlated with movements of its benchmark. An R-squared of 1.0 would mean that the fund's movements are completely correlated with the movements of its benchmark. Standard Deviation measures the degree to which a fund's performance has varied from its average performance over a particular time period. The greater the standard deviation, the greater a fund's volatility (risk). Upside Capture explains how well a fund performs in time periods where the benchmark's returns are greater than zero. Downside Capture explains how well a fund performs in time periods where the benchmark's returns are less than zero. Sharpe Ratio calculates the amount of fund return in excess of the risk-free rate per unit of risk (standard deviation) taken by the fund. Sortino Ratio calculates the amount of fund return received in excess of the risk-free interest rate per unit of "downside" risk (standard deviation of negative returns) taken by the fund.  Information Ratio is used to evaluate the skill of a portfolio manager at generating returns in excess of a given benchmark. A higher information ratio result implies a better portfolio manager who's achieving a higher return in excess of the benchmark, given the risk taken.
The Clifford Capital Partners Funds are distributed by ACA Foreside Fund Services, LLC., Portland, ME. Member FINRA/SIPC